Contact us online today!
Please fill out the form below or for an immediate response Call Us Today! 240-482-8672.
About Us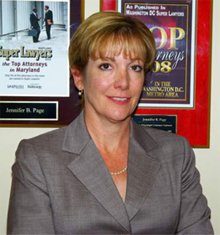 At the Law Offices of Jennifer B. Page in Rockville, MD we aggressively protect the rights of individuals in criminal and civil matters, defending people charged with misdemeanors or felonies and handling a wide range of personal injury claims, including motor vehicle accidents and workers' compensation. Our attorney, Jennifer B. Page, has considerable courtroom experience in criminal and civil cases, serving as a prosecutor and handling substantial trial work for two well-known law firms before opening her own practice.

Though we take a strong stand with opponents, we strive to be approachable and understanding with our clients. We will carefully explain the legal process, help you understand your options moving forward, and advise you of the possible consequences of the choices you make. We will always return your calls promptly and keep you informed of any developments in your case.
The Law Offices of Jennifer B. Page is ready to assist you with your DUI defense or criminal defense case throughout the Montgomery County area. Give our criminal defense law office in Rockville, MD a call today for a free consultation and learn how we can assist you.

Why Choose Us?
Extensive trial experience
Free initial consultation
Appointment flexibility